It's all about the creative journey and the destination.   First, finding or creating unique objects to add a touch of intrigue, an idea begins to form and a vision emerges, a search ensues to find the perfect beads or chain to complement the pendant, then everything is laid out to determine the best sequence, you turn on the radio to find some music to enhance the creative mood as you carefully wrap each bead, you might be in a hurry, anxious to see if the completed piece will come out exactly as you had envisioned, but you have to pause, take a breath, and stay in the creative moment.   Finally, the beads are wrapped, the wire is patina'd and polished, the pendant is hung, the final results are gorgeous, just as you imagined.    Then you put it out there for all to see until it is discovered by that unique person for which it was intended.     This is part of the magic of owning a handmade treasure.
I so enjoyed making this set for my friend, Eileen. She created this gorgeous clay pendant! A talented potter I had met through Etsy one year while searching for that perfect Christmas gift. I purchased a few of her gorgeous pottery pieces and from there a budding friendship emerged. Sometimes we just never know what true treasures we may find on any given day.
This set is NFS (not for sale — one of those dreaded signs I sometimes stumble across while antiquing and find that something I so adore…sigh). From the beginning it was meant for her.
And although this gorgeous set has found its forever home, I do have a few other unique, one-of-a-kind statement necklaces featuring Eileen's gorgeous pendants.
These necklaces are currently available in my shop: https://goimagine.com/judystreehouse/?category_id=729
And, you can find Eileen's gorgeous pottery in her shop: https://www.etsy.com/shop/SwallowsNestPottery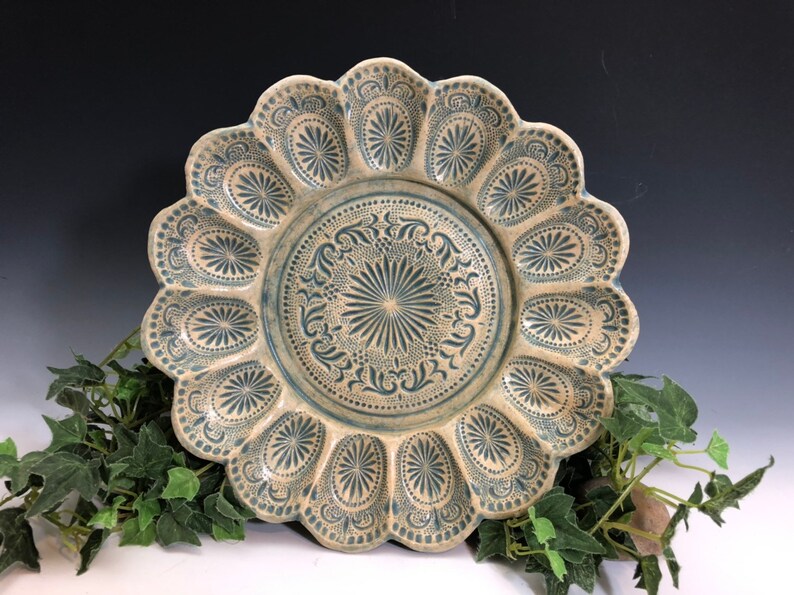 You can contact either one of us through our shop links above.
Wishing you an abundance of unexpected treasures!
Peace Love and Joy
Judy